Boxing's Biggest Rematch: Jake Paul and Tommy Fury Set to Clash Again in July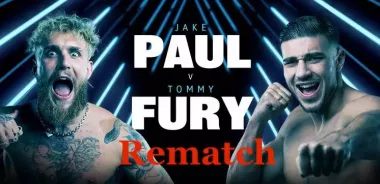 Jake Paul and Tommy Fury, two well-known figures in the boxing world, may be in for a highly-anticipated rematch as early as July. Fury managed to eke out a split decision win over Paul during their initial bout last month in Saudi Arabia. Although Fury was the victor, the fight proved to be much more difficult than he had expected. In fact, he was even knocked down and had to face a point deduction for holding. Despite these setbacks, Fury ultimately triumphed with the judges scoring the fight 76-73, 76-73, 74-75 in his favour.
Interestingly, Paul wasted no time in calling for a rematch immediately after the fight concluded. He blamed his loss on an "illness" and an "arm injury", though Fury urged him to bring it on. ESPN has now reported that the rematch could occur in as little as five months since their first meeting.
Although a location for the fight has not been confirmed, Fury's coach and dad John has advocated for it to be held in Saudi Arabia once again. Tommy, who first gained fame after appearing on the hit reality show Love Island, is confident he will emerge victorious in the rematch by knocking out Paul, a claim he repeatedly made prior to their first fight.
Paul, despite the loss, remains a major disruptor in the boxing world, having garnered a large following and significant earnings after just six professional fights. After their initial bout, both fighters were willing to put aside their differences and showed respect for each other. Cameras from BT Sport captured the two talking after the fight, with Fury complimenting Paul on his toughness and Paul thanking Fury in English.
The possibility of a rematch between Jake Paul and Tommy Fury is sure to excite boxing fans worldwide. As two formidable fighters with a lot on the line, the bout promises to be an electrifying spectacle that will undoubtedly test their physical and mental fortitude. While it remains to be seen who will emerge as the ultimate victor, one thing is certain: this fight is not one to be missed.